A Local,
Family-Owned Roofing
Company Since 1929
4.9
(278 Ratings & Reviews)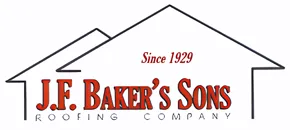 Reviews
J.F. Baker's Sons Roofing Company
Called JF Baker's sons roofing after a horrible experience with another company that left a denied claim on my home owners insurance policy. Chad came right out left me with materials to look at and then sent a very detailed quote over. There was no high pressure no haggling. I quickly accepted the very reasonable quote and my new roof was on in less than a week. When the installers came they noticed some discrepancies from what was ordered and the color of home so rather then put up what was ordered they took the time to match these small flashing pieces to the color of my home, something I may have never noticed but they would and did it right and I am very appreciative for it. Very impressive company, and one I would highly recommend.
Chad Fields


July 29, 2023
Always responsive and a great family run business!
Dan Hall


July 29, 2023
Installed drip edge extensions to fix the poor workmanship from a roof replacement from another company. Great job from start to finish. No more rain water getting behind my gutters. Would recommend this company to anyone.
Chase Fuller


June 29, 2023
This family run local company was absolutely wonderful ! They were prompt and communicated with me every step of the way. After their clean up, I did not find one stray nail or shingle. They also explained why I needed a different company to update the insulation of the attic and crawl space. By the time I paid the bill I felt like I was the one who got a real bargain!
Thomas Olencki


April 29, 2023
J.F. Baker's came and gave us an estimate on repairing a flat roof that had been leaking into our choir room. We had tried numerous times to fix it, but it continued to leak. J.F. Baker came out and knew exactly how to fix the roof and there have been no leaks.
Charlene ODonnell


April 29, 2023
I have been a Realtor in greater Columbus for 30 years. JF Bakers' Sons is always my go-to roofing company. Personally, they have done two new roofs for my family at different properties. This is the only company that I let touch my roof. Fabulous customer service!
Janet Reiss


April 29, 2023
J.F. Baker's Sons Roofing did a nice job of repairing a crack in our chimney that was letting water down in to our attic as well as fixing/replacing a roof vent. Pricing was reasonable and they were very prompt and knowledgable in all of their actions. I would recommend them if you have a roof repair need.
Christopher Kimmet


April 29, 2023
Flat top rubber roof replacement done by them. Excellent staff and they insisted to double check their work before asking for payment. Provided before, during and after photos of the project. Highly recommend them.
Brittany Wagner


April 29, 2023
Great company to work with and we are very happy with our new roof.
Tim Bangert


April 29, 2023
JF Baker put new gutters up and repaired the roof over our screened in porch. They did a great job, we're on time, and left after a thorough clean up.
John Reehil


April 29, 2023
We have used J. F. Baker & Sons to replace roofs on our home and garage and to repair damaged roof tiles, and they have always responded promptly and done excellent work. I can't recommend them highly enough.
Melvin Weinstein


April 29, 2023
A great experience! This roofing company is tops — quick and reliable. The office staff is super, and the price was reasonable. I would use them again in a heartbeat.
p.a. d.


April 29, 2023
Had a rough start due to bad weather. This company gets the work done and done right the first time! And when I tell you they are for the customers, they are! First time i've ever had a company that did not try to up sale. I will keep using this company for all of my roofing needs. Thanks guys!
Kathy Springer


April 29, 2023
I've used this company for years! Alway pleased with the quality of workmanship, honesty in pricing, professionalism and time management. I highly recommend them for your roofing jobs.
Francisca Figueroa


April 29, 2023
"We are very happy with our new roof and gutters! Chad was very attentive and helpful when we reached out with a leak. The company was timely with the start of the project and cost was competitive. When they finished and came for the final inspection, we noticed a small cosmetic issue and Baker was committed to making it perfect at no additional cost. Thanks for everything!"
Abigail Nelson


April 29, 2023
Awesome company. I am realtor and have been using them for my entire career of 35+ years and they have never failed me. I highly recommend them.
Jane Coughlin


April 29, 2023
Excellent workmanship! Overall a great company to work with on our roof repair on a historic German Village property
Brian Rambo


April 29, 2023
I love this company. They showed up when they said they would and did a great job. But most importantly they answered all my questions and explained things to me in a way I could understand. They took all my questions and concerns seriously. I truly felt listened too
paula dunaway


April 29, 2023
We have used Baker & Sons numerous times over the last several (20+) years. Work is always excellent and the service is very professional. I highly recommend them.
michael gire


August 29, 2022
We would like to give this company 2 "thumbs up" for the excellent service they had provided us in repairing an improper downspout installed by another company. Chad had gave us good advice in how to improve roof water drainage. Chad and Brian repaired a gutter leak and installed a new downspout on our roof. Kudos to all the staff and crew members at Baker and Sons Roof. They are a honest and professional company!
Cheryl Lane


August 29, 2021
Right from the start Chad Baker evaluated our roof and even met with the insurance adjuster. He dropped off the colors of shingles I was considering and threw in a few more options. Chad was great and humorous to work with. Mike Baker and his crew with Michael leading the way did a meticulous job installing the new roof. I really can't say enough about this company. We have had the JF Baker's Sons for many projects and this job was the best yet!!! Thanks you Michael, Mike and Chad!!!!
Diane Early


August 29, 2021
Great experience with Baker replacing our roof. We have never seen such attention to detail. We particularly enjoyed the care they took protecting our plants. Clean up was very well done.
Bette VanScyoc


August 29, 2021
The company kept me informed along the way. All paperwork was done via email which made it very convenient. They were very professional and used high quality products. I really like the dimensional shingles and have received compliments from my neighbors on the improved look.
Amy Green


August 29, 2021
Great communication. Work was completed in a day. Roofers kept area clean as they worked.
Luke Wendt


August 29, 2021
The quality and attention to detail provided by the installer was as perfect as perfect could be. I watched alot of the install and you could tell that every step was done with precision and attention the small details. We had J.F. Baker install new gutters provided by Donley Gutter and that work was absolutely perfect. Looks like a new-build! If you want quality work use a company that's been in business since 1929!
Richard Huckleberry


August 29, 2021
This is the third time we have used J. F. Baker and sons. Our new roof looks great. The crew was top notch and We couldn't be happier. Thank you.
Carrie Rosen


August 29, 2020
They really did an excellent job on the roof of my sunroom. They ran into an issue with removing one of the layers of old roof and it extended their work time significantly, but they stayed and completed it and didn't charge me extra. Very happy and very appreciative!
Jennifer Zell


August 29, 2020
Did a great job using high quality material. Their pricing provides great value. One of the owners comes by next day to inspect. If you have any issues they are willing to ensure your happiness.
James Kimmelman


August 29, 2020
Becuase of the Covid 19 and the shut down things got pushed back but with that being said, they are an awesome company to work with. They did job on the price given have had 3 rain storms since and not a drop of water in my house. Extermely pleased would refer to friends and will use again if needed.
Jim Duffy


August 29, 2020
We have been working with Brad Baker for years now and have always found him to be honest, helpful, and extremely knowledgeable. When our insurance company adjuster said we qualified for a claim because of hail damage, the choice was clear for us. Mike worked with us on all of the details during the new roof and went above and beyond to make sure we were happy. He even handled some things I thought maybe should rest with us. The crew worked hard all day and even into the following day to make sure it was done right. Then, as far as the cleanup goes, I was extremely happy to only find a few nails that they missed. It would be impossible to get them all but they cleaned up so much better than expected. I know we chose the right company and based on the amount of time they have been in business, others must agree. Thanks Brad and Mike!
jeff swerens


August 29, 2020
I called Brad on Sunday because my 20 year old roof was leaking. He came out on Monday and I was expecting to hear I needed a new roof. Instead, he said he just needed to nail a shingle back down. Wil definitely go to this company when I need a new roof. Such a nice guy!!
Carmella Wilson


August 29, 2020
Brad & company are extremely polite, professional, and responsive! I had limited time to have someone look at the roof, and Brad was out there on the roof the very same day. Very trustworthy and responsive, I would highly recommend J.F. Baker's Sons for ANY roofing needs!
Kyle Coolman


August 29, 2020
I've used J.F. Baker's Sons twice and I'll never hire anyone else. The first project was a complete roof tear off and replacement. Their bid was super competitive, the work was top notch, and they knocked the project out quickly. The second project was at a new house where the roof started leaking after a heavy rain (FYI this was NOT a roof they installed). I emailed JF Baker's Sons on a Sunday night and by 9am Monday they were at my house. Jeremy came out first thing in the morning and patched the issue quickly and professionally. He also gave me some great advice on different maintenance items we can do to help prevent future issues. What really separates this company from the others is the level of service. They're knowledgeable, friendly, and super responsive. A+. I'd hire them again for any roofing project.
Patrick Tillman


August 29, 2020
marta bergese


August 29, 2020
Jonathan Troyer


August 29, 2019
Best roofing company in Columbus Ohio, in business for over 90 years
Corey Carpenter


August 29, 2019
Had our roof torn off and replaced. Really happy with the people, the service, the price and the result. Great stuff!
Evan Miller


August 29, 2019
Baker did some roof repair for me about 15 years ago and the work was awesome. I recently called them for an issue while selling my house. Baker came out and the buyer was present too. The knowledge, professionalism and time he took to assure my buyer was above and beyond. I wouldn't call anyone else.
Stephen Rood


August 29, 2018
Privacy Policy | Do Not Share My Information | Conditions of Use | Notice and Take Down Policy | Website Accessibility Policy
© 2023 The content on this website is owned by us and our licensors. Do not copy any content (including images) without our consent.
Designed By: Split Reef