A Local,
Family-Owned Roofing
Company Since 1929
4.9
(278 Ratings & Reviews)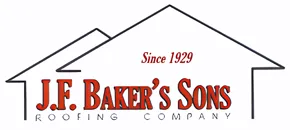 Job Opportunities
J.F. Baker's Sons Roofing Company
Roofing Technician
Full Job Description
We are seeking a experienced Roofing Technician based in Columbus, OH, to support the company's growth. If you're able to perform the responsibilities, meet the qualifications, and are interested in learning more about a dynamic organization growing at a frenetic pace – This could be the opportunity for you!
Job Responsibilities:
Provide excellent customer service with direct interaction.
Meet with customers to ensure project going as planned to their satisfaction and explore future business opportunities.
Resolve issues with customers and/or crews as needed.
Perform roof inspections in accordance with company and contract specifications.
Attend pre-construction meetings, schedule job start/completion dates, and coordinate with subcontractors.
Account for change orders and ensure appropriate approval from original scope.
Bring in jobs at or below estimated labor and material costs.
Ensure worksites follow company safety policies and procedures, and federal/state/local regulations.
Complete all paperwork in accurate and timely manner.
Provide superior customer service.
Performs additional duties as needed and/or assigned by supervision/management.
Must have the ability to diagnose repairs, sell repair work to customers and the ability to perform repairs.
Qualifications, Education and/or Experience:
3-5 years of experience in residential, and commercial roofing, projects.
Clean Driving Record and able to Pass Background check.
Any Shingle repair, EPDM rubber repair, and Slate roofing repair a plus.
Experience in all areas of residential, and commercial (we will provide additional training)
Excellent troubleshooting and analytical skills
Precise and articulate written and oral communication; ability to speak clearly and persuasively in positive or negative situations.
Strong interpersonal skills with the ability to communicate upwardly to top management and downward to a wide range of audiences.
Must be self-directed and motivated and able to multi-task in fast-paced environment.
Work schedule flexibility, with advance notice, to accommodate needs of the business.
Physically able to lift 50+ lbs.
Must have proficient knowledge of tool use. (Hammer, Prybar, Drills, Saws , Putty Knife , Shears, etc.)
Comfortable working from heights and on multiple pitches of roofing.
Proficient knowledge of roofing systems, installation techniques, and repair. (Both Residential and Commercial).
Knowledge of Roof Flashings and Repair of it. (Chimney Flashing, Roof to Wall, Cut in, Surface Mounted, and most types of Step Flashing.)
Knowledge of Siding, Fascia, and Gutter repair.
Must be able to perform simple repairs as well as complex repairs within reason and in a timely manner.
High School Diploma or GED required; advanced education and/or related certification(s), a plus.
Since its founding in 1929 J.F Baker's Sons Roofing Company, started out as a sheet metal company, has served more than 50,000 customers and has grown 5 times in size. The company prides themselves on charity work in the local community. Also have a strong value on honesty and integrity. It's no wonder the company has been around for close to 100 years.

J.F Baker's Sons Roofing Company provides residential and commercial services to customers, with a primary service area to include a 50-mile radius around central Ohio.

If you are a hard-working, driven individual looking for a challenging opportunity with a growing company, please apply.

We offer a competitive compensation and benefits package, to include Paid Vacation and Holidays. The successful candidate must possess valid driver's license with clean driving record, and complete pre-employment background check. J.F Baker's Sons Roofing Company is an Equal Opportunity Employer (EOE).
Job Type: Full-time Pay: Up to $60,000.00 per year
Benefits:
Schedule:
Work Location: Per job location
Privacy Policy | Do Not Share My Information | Conditions of Use | Notice and Take Down Policy | Website Accessibility Policy
© 2023 The content on this website is owned by us and our licensors. Do not copy any content (including images) without our consent.
Designed By: Split Reef