A Local,
Family-Owned Roofing
Company Since 1929
4.9
(278 Ratings & Reviews)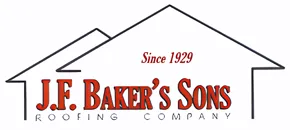 About
J.F. Baker's Sons Roofing Company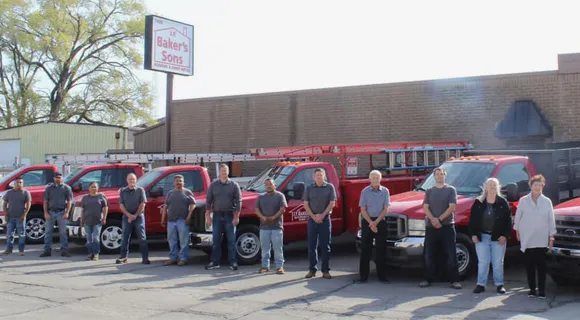 Family and Locally Owned and Operated Since 1929
J. F. Baker's Sons Roofing Company is a premier roofing contractor in Columbus, OH and the surrounding communities. We are a third-generation company that brings an unwavering commitment to excellence and quality to the local roofing industry. We love the work we do to ensure our neighbors, both individuals and businesses, have durable roofs they can rely on.

Whenever you need a trustworthy, highly experienced roofing contractor in the area, don't hesitate to call J. F. Baker's Sons Roofing Company.

We are happy to offer FREE, no-obligation roof inspections and estimates to customers throughout Central Ohio. Call 614-297-ROOF today or use our online form.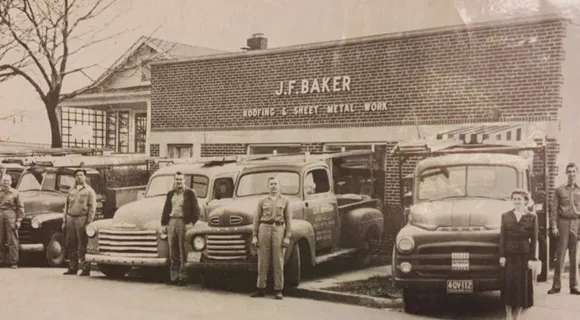 Learn About Our History
J. F. Baker's Sons Roofing Company has been family owned and operated for 3 generations. The company was founded in 1929 by James Franklin Baker, who learned the sheet metal trade at the Ohio Soldiers' and Sailors' Orphans' Home in the early 1900s. He later established the family business in a small garage in the area known as the Short North, applying his sheet metal skills lining the box gutters of Columbus's early homes. Nellie Baker, the wife of J.F. Baker, worked at the company from 1948 until her death in 1962. Norma Baker Kisner, J.F. Baker's daughter, worked at the company from 1959 until her retirement in 1997. In 1962, Wayne Baker, the youngest son of J.F. Baker, joined the family business. Wayne became the company president in 1965 and continued as president until his death in 2022.
Today, the company is operated by Wayne's son, Chad Baker and Wayne's wife, Pat Baker. Mike Mitchell, Wayne's bother-in-law, joined the business in 1977 and is currently the Production Manager overseeing New Roof Installation.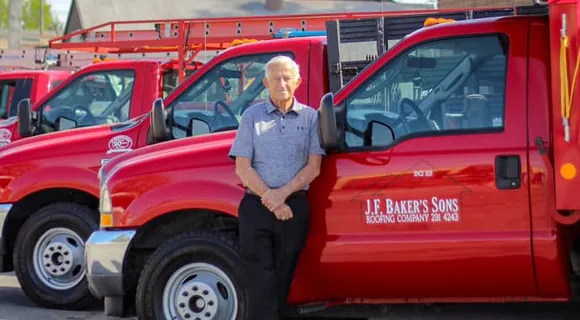 Our Affiliations
J. F. Baker's Sons Roofing Company is affiliated with the following organizations:
National Roofing Contractors Association

Ohio Roofing Contractors Association

National Federation of Independent Business

Upper Arlington and Grandview Chambers of Commerce
About
J.F. Baker's Sons Roofing Company provides residential and commercial roofing services to the Columbus, OH area.
Year Established
1929
Products
New Roofs
Roof Repair
shingles
Gutters
Services
Residential Roofing
Commercial Roofing
Gutter Installation
Sheet Metal Fabrication
Asphalt shingle roofing installation
Single-ply roofing installation
Metal roofing installation
Architectural metal roofing
Fully adhered & fastened systems
Shingle roof systems for commercial installations
Tapered roof-panel systems
Many commercial roof variations
Winterproofing flat roofs
Specialties
Residential Roofing
Commercial Roofing
Storm Damage Repairs
Gutter repair
Gutters install
Attic ventilation systems
Brands
Business Hours
Mon - Fri
8:00 am - 5:00 pm
Sat - Sun
Closed
Holiday Hours
Monday, September 4, 2023 : Closed
Thursday, November 23, 2023 : Closed
Monday, December 25, 2023 : Closed
Monday, January 1, 2024 : Closed
Payment Options
Discover
Financing
MasterCard
Visa
QuickBooks Invoicing
Associations
Better Business Bureau
NRCA
National Roofing Contractors Association
Ohio Roofing Contractors Association
National Federation of Independent Business
Upper Arlington & Grandview Chambers of Commerce
Good to Know
Languages
Pickup and Delivery
Privacy Policy | Do Not Share My Information | Conditions of Use | Notice and Take Down Policy | Website Accessibility Policy
© 2023 The content on this website is owned by us and our licensors. Do not copy any content (including images) without our consent.
Designed By: Split Reef